We help families protect money and loved ones in the event of death or disability.
My 68-year-old father unexpectedly passed away in 2022. Despite my efforts to encourage my parents to create Last Wills and Testaments and Revocable Living...
Estate Planning
We routinely prepare:
Last Wills and Testaments
Revocable Living Trusts
Advance Medical Directives
Financial Powers of Attorney
Special Needs Planning
Medicaid Trusts
Asset Protection Planning
Probate Avoidance
Probate & Estate Administration
We handle:
Probate matters
Estate and Trust Administration
Court Inventories and Accountings
Estate, Gift and Inheritance Taxes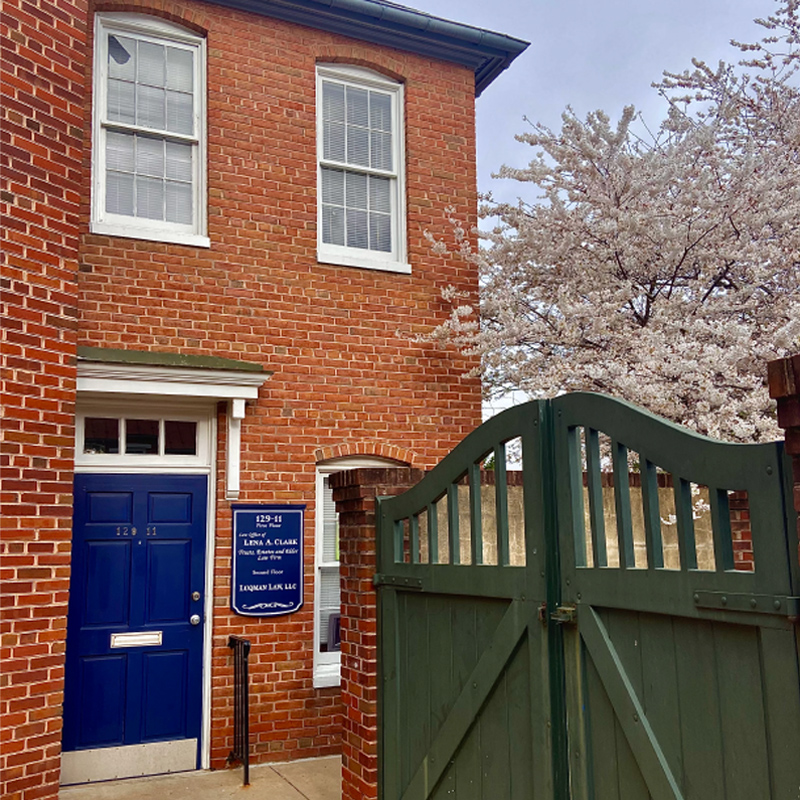 129 W Patrick St #11
Frederick, MD 21701
We're Here to Help
At the Law Office of Lena A. Clark, our highest priority is helping you protect money and loved ones in the event of death or disability. Whether it's Estate Planning, Probate, or Trust Administration, we offer you an individually tailored experience to ensure you leave with the peace of mind knowing your affairs are in order. Take the next step in securing your family's future and let us guide you along the way.
What Our Clients Have to Say
Since opening the Firm in April of 2015, we have worked with over 1,000 clients in the Frederick County area to help them prepare for their future with appropriate Estate Planning documents and to process Estate, Trust Administration and Probate matters.
Jeanne Brown
October 31, 2023.
Nice people!
Dave Baldwin
October 25, 2023.
Lena A Clark team were very professional, courteous and answered all of our questions and concerns. Highly recommend this office for anyone looking to write or update their will and power of attorneys.
Boyce Rensberger
October 23, 2023.
My wife and I needed to have wills created. We approached another lawyer that we knew, but he never responded to e-mails or phone calls. So we searched online for a good lawyer to handle this and found Lena Clark had the most appealing combination of experience and favorable reviews. We chose well. Lena responded within hours and helped us through the whole process, which led us to make some crucial decisions that we had been putting off. Now we hope we won't need those wills for a long time. We highly recommend Lena Clark. She is knowledgeable and easy for non-lawyers to talk to.
Lori and Gregg Davis
October 18, 2023.
Updated our wills and established a trust to allow our young children to avoid probate if necessary . Pleased with the service and the clarity of the answers we received to our questions. Lena Clark met with us for our initial discussion and then Maurice O'Brien handled our closing. We were very happy with his explanations of the documents and our last minute questions. Would recommend.
John Kirschner
October 2, 2023.
I have used the law offices of Lena Clark for my father's estate and my own. They are very friendly, efficient, and thorough. I recommend them highly to anyone who needs estate planning or probate legal support.
David Chance
October 2, 2023.
Very thorough and great at what they do.
D. L. Robb
September 28, 2023.
Thinking about things like wills, trusts, estates, beneficiaries, etc. can be very daunting. If you think these things through, you will realize you do not want the State to make these important decisions for you. When has that really ever worked?! The peace of mind of that comes from taking care of these with an immensely competent firm is beyond reassuring. The Law Office of Lena Clark absolutely meets those benchmarks and is highly focused and skilled in these matters. They will put together a very thorough estate plan that is tailored to your needs. They take the time to answer the many questions you will surely have. I highly recommend this Firm to meet these very important responsibilities we owe to the ones we care about.
Nancy Summers
September 27, 2023.
The staff was very helpful. They answered all our questions. We highly recommend this practice.
Getting Started
Ready to Take the First Step?
The best way to accomplish anything is by taking the first step. Our team is ready to work diligently to help you accomplish your Estate Planning goals. Schedule a consultation today or learn more about our process below.
Schedule a Consultation
View Our Process