We help families protect money and loved ones in the event of death or disability.
Estate Planning
We routinely prepare:
Last Wills and Testaments
Revocable Living Trusts
Advance Medical Directives
Financial Powers of Attorney
Special Needs Planning
Medicaid Trusts
Asset Protection Planning
Probate Avoidance
Probate & Estate Administration
We handle:
Probate matters
Estate and Trust Administration
Court Inventories and Accountings
Estate, Gift and Inheritance Taxes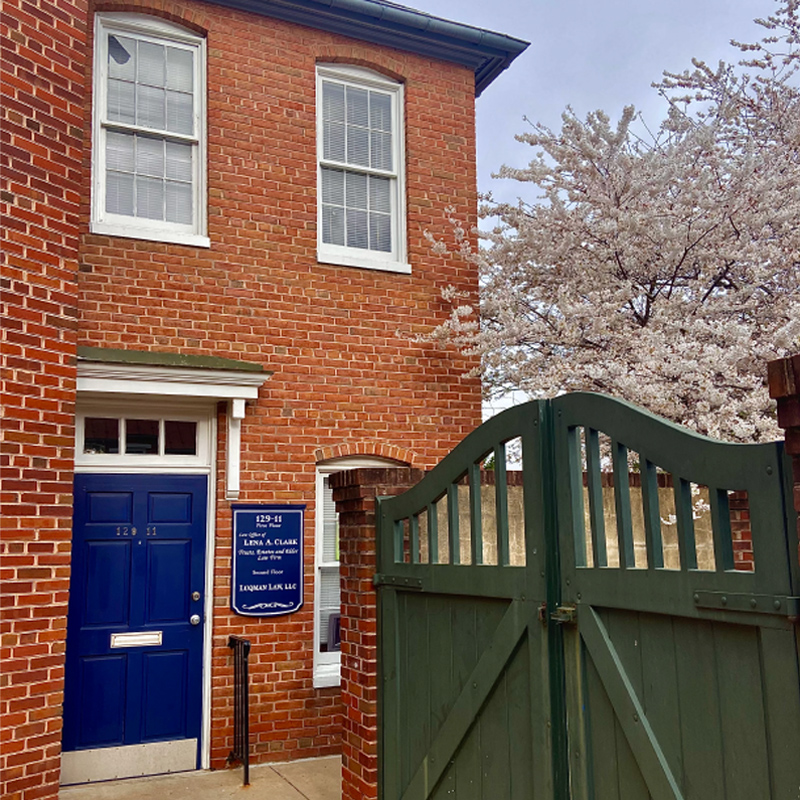 129 W Patrick St #11
Frederick, MD 21701
We're Here to Help
At the Law Office of Lena A. Clark, our highest priority is helping you protect money and loved ones in the event of death or disability. Whether it's Estate Planning, Probate, or Trust Administration, we offer you an individually tailored experience to ensure you leave with the peace of mind knowing your affairs are in order. Take the next step in securing your family's future and let us guide you along the way.
What Our Clients Have to Say
Since opening the Firm in April of 2015, we have worked with over 1,000 clients in the Frederick County area to help them prepare for their future with appropriate Estate Planning documents and to process Estate, Trust Administration and Probate matters.
Excellent experience. All of my questions were answered and I feel confident that everything was handled in the best way possible. Staff members communicated very well and everyone I met was professional and pleasant. I have much more peace of mind now, knowing that my wishes will be honored.
Christine Pappas
May 5, 2022.
Having our wills drawn up was an emotional experience for us, but Lena and her team helped to make the process easy, comfortable and so worth the time. At our first visit, we were immediately put at ease; the office itself is comfortable, clean and inviting. Allison who works the front desk made us feel right at home. Lena, our estate lawyer, demonstrated only the finest professionalism, understanding, and friendliness. Matt, who is the law clerk, was so patient and informative, answering all of our questions, always with a smile, and still able to break things down for us so that we could understand the legalese. I have nothing but extreme admiration for Lena and her team, and I wouldn't hesitate for a moment to recommend them to anyone who needs help with estate planning.
George Pappas
May 5, 2022.
My wife and I were highly impressed with the high degree of professionalism displayed by Lena and each staff member in Ms. Clark's office. Our ensuing questions and concerns were immediately answered and everything was explained to us in layman's terms, so that we fully understood the process of planning our trust. It is without reservation that I would recommend Lena Clark to develop and guide a family through the estate planning process.
Lena was very compassionate in handling the probate of my late wife's estate. She and her staff were thorough and efficient in establishing a trust for my estate. Knowing that these items were handled so competently during this time of grieving was a distinct comfort.
Dani Hawkins
February 27, 2022.
Attorney Clark's office made setting up our Will quick and painless, while also leaving us feeling confident all details were attended to. Would use them again, certainly.
Debbie DeVincent
February 7, 2022.
I cannot speak highly enough of Lena Clark and her entire staff. From the initial call to final product, they were exceptionally responsive, professional, knowledgeable and thorough. They provide a very warm and relaxing environment and were extremely patient with answering all my questions and discussing concerns I may have had. They don't just rush you in and out, but even provide you with information to questions you may not have even thought to have asked. They also go over recommendations and protocols for what to do after you leave the office, much of which I otherwise would not have ever crossed my mind. I would highly recommend Lena Clark for your estate planning needs.
H. Katz
February 4, 2022.
Due to pandemic concerns our original meeting was held via Zoom. Lena guided my wife and I through the process and answered any questions we had along the way. We went to the actual office to sign the final documents and Matthew was fantastic in his explanations and provided helpful recommendations as we asked questions. Never felt rushed. Overall, great experience.
janspacher
January 21, 2022.
Lena Clark and her staff provided me with high quality professional service. Specializing in wills, trusts, etc, Ms. Clark, et al, answered all my questions thoroughly with patience and exactness. They were always courteous and respectful. I highly recommend Ms. Clark and her staff.
Getting Started
Ready to Take the First Step?
The best way to accomplish anything is by taking the first step. Our team is ready to work diligently to help you accomplish your Estate Planning goals. Schedule a consultation today or learn more about our process below.
Schedule a Consultation
View Our Process