We help families protect money and loved ones in the event of death or disability.
Estate Planning
We can help you with:
Last Will and Testament
Revocable Living Trust
Advance Medical Directive
Financial Power of Attorney
Special Needs Planning
Medicaid Trust
Asset Protection Planning
Probate Avoidance
Probate & Estate Administration
We offer probate services:
Probate and Estate Administration
Prepare Court Inventories and Accountings
Estate, Gift and Inheritance Taxes
Represent families in uncontested Guardianship Hearings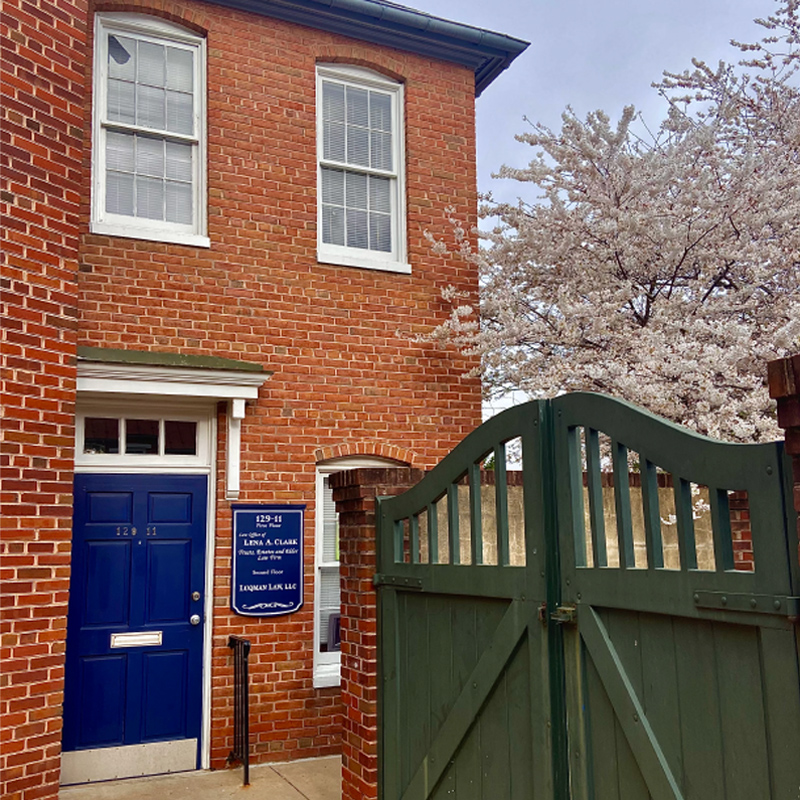 129 W Patrick St #11
Frederick, MD 21701
We're Here to Help
At the Law Office of Lena A. Clark, our highest priority is helping you protect money and loved ones in the event of death or disability. Whether it's estate planning, probate, or guardianship, we offer you an individually tailored experience to ensure you leave with the peace of mind knowing your affairs are in order. Take the next step in securing your family's future and let us guide you along the way.
What Our Clients Have to Say
Since opening the Firm in April of 2015, we have worked with over 1,050 clients in the Frederick County area to help them prepare for their future, resolve complicated estate, probate, and guardianship matters, and ensure proper care is provided for loved ones with special needs.
Lena was very compassionate in handling the probate of my late wife's estate. She and her staff were thorough and efficient in establishing a trust for my estate. Knowing that these items were handled so competently during this time of grieving was a distinct comfort.
Dani Hawkins
February 27, 2022.
Attorney Clark's office made setting up our Will quick and painless, while also leaving us feeling confident all details were attended to. Would use them again, certainly.
Debbie DeVincent
February 7, 2022.
I cannot speak highly enough of Lena Clark and her entire staff. From the initial call to final product, they were exceptionally responsive, professional, knowledgeable and thorough. They provide a very warm and relaxing environment and were extremely patient with answering all my questions and discussing concerns I may have had. They don't just rush you in and out, but even provide you with information to questions you may not have even thought to have asked. They also go over recommendations and protocols for what to do after you leave the office, much of which I otherwise would not have ever crossed my mind. I would highly recommend Lena Clark for your estate planning needs.
H. Katz
February 4, 2022.
Due to pandemic concerns our original meeting was held via Zoom. Lena guided my wife and I through the process and answered any questions we had along the way. We went to the actual office to sign the final documents and Matthew was fantastic in his explanations and provided helpful recommendations as we asked questions. Never felt rushed. Overall, great experience.
janspacher
January 21, 2022.
Lena Clark and her staff provided me with high quality professional service. Specializing in wills, trusts, etc, Ms. Clark, et al, answered all my questions thoroughly with patience and exactness. They were always courteous and respectful. I highly recommend Ms. Clark and her staff.
Jay Wagenaar
January 14, 2022.
These fantastic people dropped everything to assist me in a time of need. Everyone I dealt with was super compassionate, knowledgeable, and caring. Thank you to Lena, Isabelle, and Matt. Your work is most appreciated.
Rob Cramer
December 15, 2021.
Lena provided excellent service in establishing my Trust and Last Will and Testament after my wife passed away, she was kind, considerate and professional.
Getting Started
Ready to Take the First Step?
The best way to accomplish anything is by taking the first step. Our team is ready to work diligently to help you accomplish your estate planning goals. Schedule a consultation today or learn more about our process below.
Schedule a Consultation
View Our Process